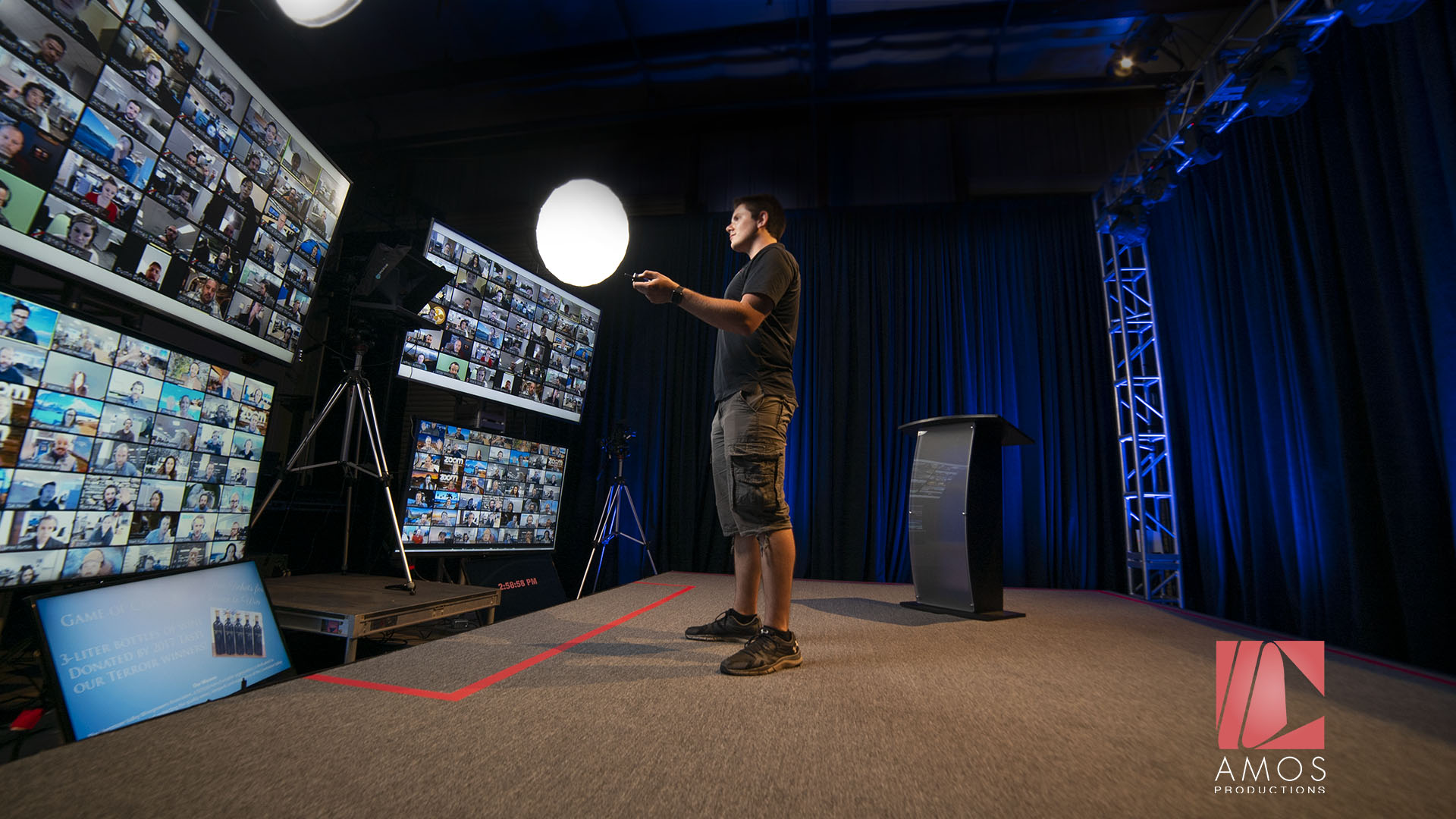 AMOSPRO STUDIO
Looking for a great solution to host a more professional online event, award show, meeting or fundraiser?
Here at Amos Productions, we have created the most ENGAGING studio possible, for virtual events - complete with broadcast cameras, teleprompters, soft-box lighting, powerpoint screens, podiums, presenter clocks, flip charts, white boards, and more. We've event left some room behind the stage for a custom banner with your branding/backdrop, an optional LED Wall or green screen for some cool virtual stage/studio designs.
With the incorporation of our advanced audio-visual equipment and some teleconferencing magic, we can even split your attendees and display them among several screens to enhance your live event experience and interactions with your attendees.
Want to pre-record your event instead?  We can do that as well with all the same technology in our studio.  We can pre-record all the segments, edit to perfection, and even pre-produce content outside of our studio.
Many of our clients tell us they are producing better results in our studio vs their in-person events.  Think about it, lower over-head cost, no limitations on audience size or geographical location, with the same level of engagement.
GREAT FOR:
Business Meeting
Webinars
Virtual Conference
Fundraising Event
Award Show
Town Hall Meeting
Benefit Event
Talk Shows
Political Events
FEATURES:
Studio Cameras & Lighting
Broadcast Teleprompter
Custom Backdrops
Green Screen w/ a Virtual Stage
Presenter Clocks for timing
Virtual Callers in HD
HD Recordings of your Show
Interpreters for a secondary language
We can stream any where you like; Zoom or Teams is a great place to engage with an audience, but YouTube can prove to be a better source or maybe you want to stream to Facebook where your audience resides - we can help you with that decision or we can stream to all at once.
Contact us today to learn more about our studio or to schedule a tour.  We understand every event has different needs and we are here to help find solutions for you.  We can even bring a similar setup to your location.  Call for details!
Sample Studio Events
Below are a few demos to look at. The first one is a sample form our green screen studio which is great for Award Shows or Galas.
Virtual Studio Demo
In this demo, we show off our virtual studio. It's not a real set, it's a green screen set that looks real and offers a cool look. In this demo, we incorporate a powerpoint deck and virtual callers.
Lazarex Gala
We hosted this very successful gala in our studio and they raised over $250k. Give us a call to discuss how we can provide the same level of service for your upcoming event.
Donor Network 5K Run
Yes, we can even host successful Virtual 5k runs with a little fundraising. With celebrity host, virtual call ins, and several hundred people participating live online. A very successful event!
Sunflower Hill Gala
This was another fundraising Gala that we produced. This event also had a remote broadcast element to it. We produced the show from our studio but sent a camera crew out to a remote location to mix into our broadcast.
Dr. Moss Webinar
The Livermore Chamber of Commerce hosts a webinar with Alameda County Health Officer, Dr. Moss to discuss the Covid-19 issues in the work place.  In this production, we brought each caller in virtually and included custom branded graphics, logos, name titles and a powerpoint deck into the livestream and HD recording.
Elevate 180
Here is a talk show we produce for for a couple trips-valley ladies utilizing our studio with broadcast cameras and soft-box lighting and many interviews using our virtual caller utility that record in HD quality (unlike Zoom).  We also incorporate their colors, logos and branding into the graphic design.
Here is a little look at our studio behind the scenes on a couple shows.  Please be sure to setup a time to tour our studio to learn more about what we can do for your upcoming event or meeting.